Three Hospitality Professionals gained better skills and experience through the HoKa Training Programme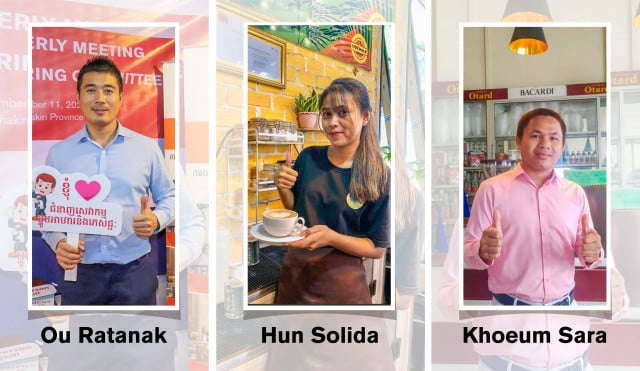 PHNOM PENH – Despite their hectic daily schedule working in hospitality, three trainees found time to attend the Hospitality Kampuchea (HoKa) Programme to enhance their skills and knowledge. Through their hard work and perseverance, the three trainees have improved their practical and soft skills to use in their day-to-day job and share with their coworkers to grow their business.
Ou Ratanak is managing the Paradise Restaurant in Balung, Ratanak Kiri province. Regardless of his limited time as manager, he took the opportunity to improve his hospitality knowledge and skills through the HoKa training programme of the Ministry of Tourism. Once he completed the 6-days training on food and beverage service, he recognized the improved quality of service for customers and found a better way to lead the business.
Ratanak described that after the awareness campaign of the Provincial Department of Tourism of Ratanak Kiri, he got interested in attending the training course, to make up for his deficiencies and gain more job security.
"We applied what we learn at the workplace, like always greeting guests with polite and dignified words," he said. "Some guests were surprised as they didn't expect to receive such a good-quality service in such a small place. It exceeded their expectations."
As a manager, Ratanak was happy to share with the staff what he learned during the training: always focus on customer service, hygiene and environmental aspects to provide good service and to satisfy and attract customers. A hundred kilometers west of Banlung, Hun Solida, a 20-year-old barista at a café in Stung Treng province, also joined the HoKa training in 2021. She says it has changed the way she works.
As Solida, all trainees undergo a series of skills tests, at the end of the program, overseen by Cambodian and ASEAN trainers, to ensure that they are qualified enough to provide excellent services to customers.
Solida thinks that this training course is really beneficial for the trainees. In addition to the basic lessons, the training also teaches principles and behavioral preparation and manners with customers.
"If I could, I would like to attend this program one more time, as it would give me the opportunity to strengthen my skills even more!" she said. "I could learn with good trainers who shared both their knowledge and experience, which allowed me to develop myself."
Solida said that this training course has helped to building her confidence and to finding a well-paid job, too.
Khoeum Sara, an employee at Suntha guesthouse and restaurant in Stung Treng province, also had the opportunity to get trained by the HoKa programme.
He chose to learn more about food and beverage service. Once the course was completed, Sara said, he shared with his colleagues how to serve, dress, and behave in front of customers in the food and beverage industry.
"The trainers taught us to understand about providing services from the beginning to the end. We have to serve our customers well, even if they order simple dishes like rice. When they praise us, we feel extremely excited," Sara said.
All three trainees encourage disadvantaged young women and men in rural areas to take part in HoKa training courses to develop their professional skills to gain a decent job. Moreover, they also wish for a wider promotion of the training opportunity to provide better chances to young women and men to learn skills that would help reduce poverty and prevent drugs.
The HoKa training programme implemented the Ministry of Tourism in collaboration with the Skills Development Programme, a project of the Swiss Agency for Development and Cooperation (SDC), has trained a total of 884 tourism professionals, including 596 women in the first semester of 2022. Through its successful implementation, the program is also extended to Battambang, Pailin, Pursat, Banteay Meanchey, and Oddar Meanchey, popular destinations and great potential in the tourism sector.
The Skills Development Programme (SDP) is a project of the Swiss Agency for Development and Cooperation (SDC). The SDP phase 2 (2020 to 2024) is implemented by Swisscontact in a consortium with INBAS and in collaboration with the Ministry of Labour and Vocational Training (MoLVT) and the Ministry of Tourism (MoT). The programme works closely with the government at the national and the provincial levels and with partners such as the National Employment Agency, public and non-governmental training providers as well as companies and small enterprises in the hospitality and other sectors.
Originally written in Khmer for ThmeyThmey, this story was translated by Meng Seavmey for Cambodianess.
Related Articles
September 30, 2022 5:25 PM
December 15, 2020 7:28 AM