PM Defends New Agriculture Minister Against Criticism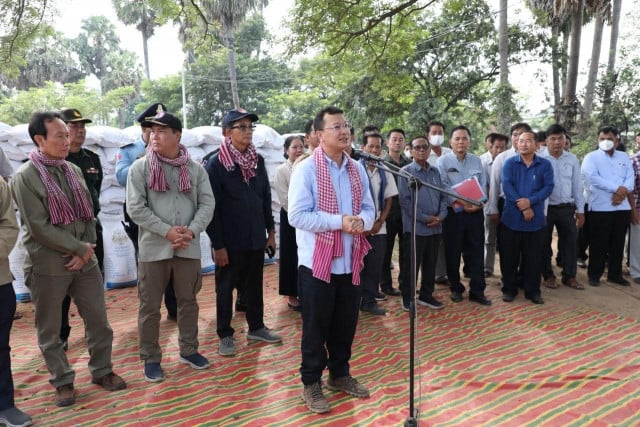 PHNOM PENH – Prime Minister Hun Sen stood up to defend the newly-appointed Minister of Agriculture, Fisheries, and Forestry, who has been under a flow of critics from the public, because of his lack of qualifications in the agricultural sector. He has instead a background in engineering.
"For a leader, the important thing is to know how to manage the officers under his command and set up the right policies. I would like to remind you that not only those with agricultural skills are appropriate [to be agriculture minister]. Don't judge too quickly," Hun Sen said during the graduation ceremony of the Royal University of Law and Economics on Nov.1.
Dith Tina, the newly-appointed Minister of Agriculture, took office on Oct. 17. He was previously a secretary of state at the Ministry of Mines and Energy and graduated from the Ecole Nationale Supérieure des Mines de Paris (now MINES ParisTech) with a diploma in mining engineering.
He was appointed as Agriculture Minister after his predecessor, Veng Sakhon, was discharged from his position on Oct. 8 after six years in office.
Hun Sen went on to say that no one knows all, citing his own experience as a leader. Agriculture is wide and is not only about planting rice but also about agronomy or animal husbandry, thus cross skills can be useful he said.
"No one knows all. I heard people wondering why another person with a background in agriculture wouldn't have been appointed [as Agriculture Minister] instead of a mining engineer. But agriculture is not just about growing rice," he said.
Pa Chanroeun, president of the Cambodian Institute for Democracy of Cambodia (CID), said​ that above all, ministers have a political role. They don't necessarily have to be specialized in the field they lead and represent.
The most important is their ability to take lead in the tasks in the ministry as a whole and their willingness, ambition, and high responsibility in problem-solving, he said.
"Simply speaking, although [Tina] may not have abundant knowledge and experience in agriculture if he commits, I believe the ministry will move forward," said Chanroeun.
During the inauguration ceremony, Dith Tina pledged to modernize Cambodia's agriculture so it becomes more environmentally friendly and resilient to climate change.
He also said he will address these issues by forming a working group to promote rice seed production to reduce farmers' production costs.
Tina began his mission on Oct.19 by visiting flood-affected areas to give farmers relief and seeds in a highly publicized trip that aimed to build his image as Agriculture Minister.
A few days later, on Oct. 27, he cohosted the launching ceremony of a new treaty that allows Pailin longans to be exported to China. After three years of market and phytosanitary negotiations, the first batches are expected to be exported as soon as the harvest season kicks off in the coming days.
The agriculture minister said that gaining the right to export Pailin longans to China now was a success and paved the way for other Cambodian agricultural products to be exported to China.
Related Articles