My Cambodia: Polish UNTAC Veteran Compiles Peacekeeping Mission Memories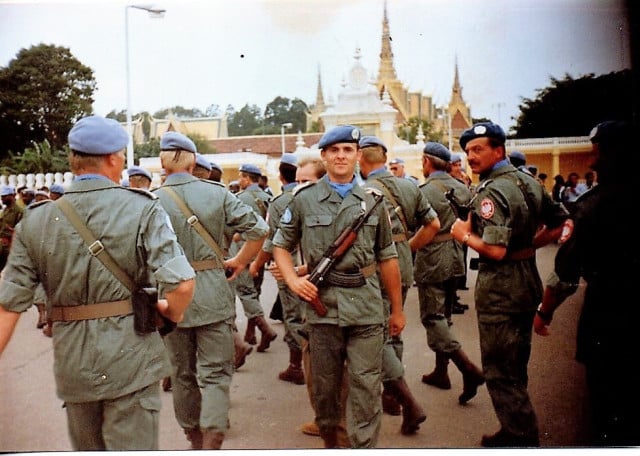 PHNOM PENH – Following the signing of the Paris Peace Agreements in October 1991 by the Cambodian government and several other Cambodian factions, including the Khmer Rouge, the U.N. Transitional Authority in Cambodia (UNTAC) was put in place to manage the country, organize the holding of national elections, and leave once the elected government was in place.
UNTAC was to comprise between 15,000 and 20,000 United Nations personnel, including human rights, civil administrative and military components. It also included a police component of some 3,600 police monitors.​ At its peak, UNTAC numbered over 21,000 military and civilian personnel from more than 100 countries.
Piotr Oller was among the military crew sent from Poland. He arrived in the country in 1992 and spent 13 months serving under the UNTAC umbrella. At only 24 years old, Oller left behind his wife and a three-year-old daughter in Poland.
While visiting Cambodia in April 2023, Oller brought along his book, published in February 2023, in which he shares his memories of the UNTAC period and memories from that period.


As for now, the book, entitled "My Cambodia (memories of a Veteran of the UN Peacekeeping Mission in Cambodia (UNTAC)", is only available in Polish. But an English version will be released in May in the UK.
Teng Yalirozy: Can you briefly elaborate on the book?
Piotr Oller: That's about my story from the first day to the last day in Cambodia. I wrote about serious situations, like when I was working as a truck driver, driving to Sihanoukville on a road with a lot of landmines. That was a very dangerous place. But also about some funny situations, like when I met snakes or huge spiders in the toilets. That's all in my book. I also talk about how much I missed my family because I left behind my young wife with my three-year-old daughter for one year. I was in Cambodia, and they were in Poland. I missed them. That's my true story about what I felt, what I liked and what I missed. There are fun parts in the book, but also parts that can make people cry.
Teng Yalirozy: UNTAC period ended 30 years ago. Why did you decide to write this book depicting that time, and the memories you have of Cambodia?
Piotr Oller: Once the mission was over, I returned to my family. Because I was a soldier, the Polish army sent me once again on a mission to Lebanon. When I was back from that second mission in Lebanon, my family and I moved to England. We live in England now. But since the end of my mission under UNTAC, I've kept thinking about Cambodia. Cambodia was in my head and in my soul. I've been missing the country. One day, my daughter brought me a birthday card. She wrote "Dear Daddy, think about going back to Cambodia. Let's go and see how Cambodia is now." So, we booked a ticket in 2011, and I came to Cambodia with my wife for the first time after the mission. I showed her how beautiful the country is, from Phnom Penh to Angkor Wat. We went to Sihanoukville as well.


After we went, some of my friends wanted to go as well. They asked me for advice to travel to Cambodia, and we went together. I was back in Cambodia with my friends four times. Finally, the crew of Polish soldiers who served in Cambodia in 1992 and 1993 opened a school to support poor children. A total of 350 children from 19 villages have been attending the school so far, and it is still running. This is also one of the reasons why I came so many times here, to see how the school and the children were going. I am still connected to Cambodia.
Teng Yalirozy: What is the school called and where is it?
Piotr Oller: It's a charity school in Takeo province.
Teng Yalirozy: What is the one thing that you want the readers to know about your book? What makes it special?
Piotr Oller: One of the reasons why I wrote the book is because I want to dedicate all the profits that I will make from the sales to supporting the charity school in Takeo province. The money will be used to buy more books, especially English books, and answer to the children's basic needs.


Teng Yalirozy: When did you start the book project, and how much time did you spend on the book?
Piotr Oller: I started working on the book two years ago, in 2021. After a lot of work, it was published in Poland in February this year. In addition to the text, the book includes a lot of pictures to show what the country looked like 30 years ago.
Teng Yalirozy: How did you feel while working on the book?
Piotr Oller: Remembering all these moments and seeing all these pictures from that time was very emotional. Sometimes, I started writing in the middle of the night. Either because a memory had popped up in my head or because I received pictures from a friend. I had to write it down at that moment.
Teng Yalirozy: The book is the memoir of your UN peacekeeping mission in Cambodia. Can you share something that you cannot forget during your mission?
Piotr Oller: It's not easy to say as that's emotional but I remember that I cried for my family. One day, when I woke up in the morning, I started crying because it had already been six months since I started the mission. There was no internet at the time, so it was not easy to connect with your close ones. That's the normal human thing, I missed my family. Life 30 years ago in Cambodia was not easy.


It is also difficult to forget the first times I saw very poor people after the war. There was nothing in this country. We were here to help and that was our mission. We were here not to fight with anyone but just to help the people. When we saw poor children, we would give bread and water to them. That's what we could do for them. We helped them and contributed to rebuilding this country. We just gave the hands, but for what was happening next, that's not ours; that's yours. You must build the country.
Teng Yalirozy: What do you think about how Cambodia has changed?
Piotr Oller: The future is open for you. The first time that I came back in 2011, there were not many changes, but I saw a lot of changes when I came in 2013 and 2015. For example, Phnom Penh looks a lot different today, I cannot believe how the capital city is now. That's unbelievable. In my time, I remember that the only higher building was the royal palace. Now, it looks beautiful.
Related Articles
October 14, 2020 10:52 AM
September 28, 2022 6:34 PM