Making It in COVID-19 Times: Cambodian Artists Use New/Old Techniques to Express the New Normal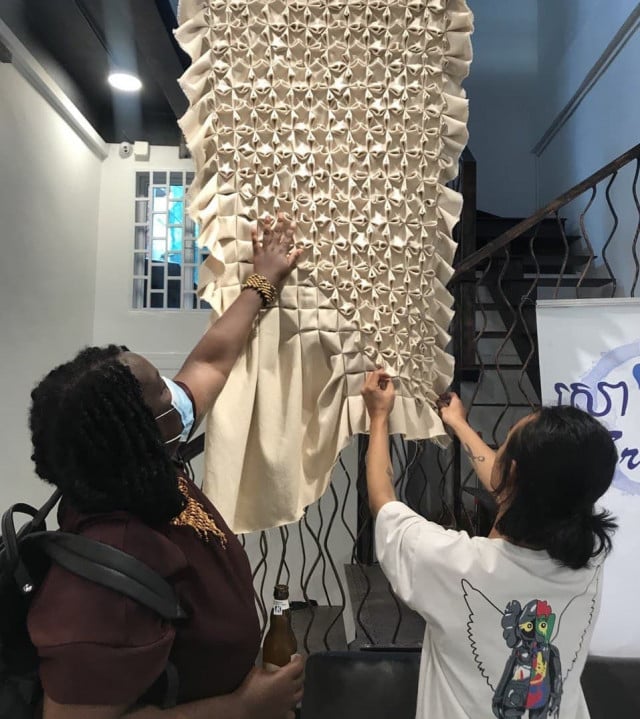 After struggling to adjust, they venture into new forms and styles to speak of today
PHNOM PENH--What do you do when you are in your 20s and suddenly, because of something called coronavirus, your world more or less tumbles and your life—present and future—must be reinvented without knowing when normalcy will return.
Plus you must learn to be on your own and, if you meet friends and family, to remember that hugging, shaking hands or even touching a person on the shoulder is no longer the thing to do.
The works in the exhibition "Talking Texture" held at Sra'Art Gallery in Phnom Penh came out of what the three artists of the collective Homeless—Sin Many, Chang Shanghai and So Sothsovankong—lived through since the start of the pandemic.
"It's the result of a long period of fighting, of struggling, of suffering, of being lonely," said Sothsovankong who goes by the artist name of KWN23. "I think it's about times and stress, different times, different stress, different emotions…sad, lonely, confident.
"But at the same time, you're kind of OK: I survived, I can make it happen. Because, you know, at the end of the day, we make it," he said.
The three artists who are in their early 20s met in 2018 and have exhibited together a few times.
For this exhibition they created works to reflect our unusual COVID-19 times in which touching anyone or anything has become an issue. So the three artists created works that people can actually touch—gently of course.
Chang Shangai: Revisiting Age-Old Techniques
The three artists shared a studio prior to the pandemic. They had to give it up in early 2020.
Finding himself at home and lonely, Shanghai, who is from Phnom Penh and studied fashion design at university, became interested in ancestral techniques.
For installations he created in fabric, he used a technique explained in a book he had at home. "It's a kind of artform in Japan, a really old art like origami but for fabric," Shanghai said. He had used that technique in the past but only on small pieces. But this time, Shanghai meant to make large works with it.
So between his book and information he found on the internet, Shanghai was able to master the technique. He opted to use ivory cotton to make two installations, one vertical with the fabric whirling two-stories high, the other spreading in waves, the two sides of the fabric displaying patterns in relief.
For his paintings, Shanghai turned to an artform he has seen Cambodian women practice as far back as he can remember: cross stitching. "Old people in my neighborhood: When they had free time, they would do cross stitching," he said.
Shanghai had attended a few embroidery classes at school but needed to revisit the technique. "I tried to make small pieces first to see how it would work because I wanted both sides to have patterns…and I wanted to make them thick," he said, to give the design relief. "So I learned either by myself or from the internet or from neighbors, and I learned from my mom."
But creating a painting-size work with cross stitching proved painstaking. "It takes so much patience to do this," Shanghai said. "But at the same time, because during COVID I did not have a job…every day, I would do one line, like five centimeters every day…and every day I would get a little bit a feeling of accomplishment.
"Each work took me one month to do. When I would finish one piece, I felt relieved because it was torturing work," Shanghai said.
The result is rich, intricate tapestry designs.
Sin Many: Exploring Texture and Colors
Sin Many also turned to new techniques during the pandemic. "I just wanted to explore what I can do on a canvas because I don't paint so much: In the previous exhibitions in which he had taken part, it had mainly been drawings.
"During this COVID time, I didn't get to see my family, my partner or my friends…I was kind of deprived of being in touch [with people]. So that's the idea of doing texture work," Many said.
Since physically touching anything in a public place has become such an issue in our coronavirus era, Many explored texture on canvas, creating works that can actually be touched.
"So the feeling of touching [the artworks]: It's to relieve some of this stress, you know," he said. "I let people touch the paintings….I just want them to feel that they can touch something and know that this is a time during which we need to stay together and that we will get through this together."
Originally from Battambang Province, Many took arts classes in Battambang at the NGO Phare Ponleu Selpak that specializes in visual and performing arts training. At university, he obtained a degree in finance and banking, and later worked in art galleries such as the NGO SaSa Bassac in Phnom Penh, handling administration.
To create the paintings for this exhibition, Many used discarded newspapers that he layered on cardboard. He then painted each work with acrylic paint and then press canvas over it to create patterns. "I wanted to keep the feeling of texture, the coarseness of the layers," he explained.
"And for…this exhibition, I explored colors [to find out] which colors attracted me," Many said. "So at first, I used many colors. But for this exhibition, I toned down to just a few colors," he said.
He ended up using blue, red, yellow plus black and white. "The colors I used are primary colors, so they are important for other colors to exist, if that makes sense," he said.
This reflected, Many said, "the fact that I would like to hold on…to some people who are important to me." Because during this pandemic, he said, "[w]e just need to go on and hold on to what is important."
SO Sothsovankong (KWN23): Re-finding Nature
The first months of the pandemic were really hard for KWN23 as projects after projects got cancelled.
"I could not manage," he said. "I was stuck at home and all I could do was being lonely and trying to do some artworks…But my energy level was so low that I could not manage. So I went back to my hometown in Banteay Meanchey Province and spent time with my family.
"I took all my stuff, all my supplies, paintings, my canvases, and then I painted in my hometown," KWN23 said. "I walked through the fields, walked through the villages and everything. Then, getting better, I came back to the city [Phnom Penh]."
KWN23 studied civil engineering at university and also attended graphic design classes at the Royal University of Fine Arts in Phnom Penh.
"I started doing my art as a graffiti artist, which is I worked on…walls and in public," he said. "I think I'm half fine art and half street art."
For this exhibition, KWN23 said, "I used so many media. I did acrylic painting, I did oil painting...I thought of the countryside where there's a lot going on. I thought of the energy and [all this coming together] in the paintings. And that's the medium that I used."
Also, he said, "because I have a background in graffiti art…I kind of bring public [space] work and put it in the studio, put it on canvas. So I bring street art and gallery art together. I feel it is like two in one, something like that."
The time KWN23 spent in the countryside is especially present in two works in this exhibition, he said. "The views when I walked through the fields and the villages at sunset, I brought this to canvas, and I also brought script, calligraphy and put this all together. So I think it carries some kind of energy, of emotion."
KWN23 hopes that people who look at his work will, he said, "feel something through their own experience, through their past and their future."
As Sin Many explained, even though he, Shanghai and KWN23 had previously exhibited as the collective Homeless, this time it was different.
"This is actually the first exhibition that we kind of came together…as a group," he said. "We've been together since 2018. But we were mainly doing our own work separately, doing what we do best.
"For this exhibition, we had a lot of time to make the works and also to come together because we had so much time. So we went through a lot of process, a lot of work to make this happen. So yes, it's something that…we would like to explore as a team," Many said, in the future.
The exhibition at Sra'Art Gallery -- https://www.sraartstudios.com/ -- runs through July 3.
The gallery is located at 7Eo, Samdach Sothearos Blvd (3) in Phnom Penh.
Related Articles
February 18, 2021 7:23 AM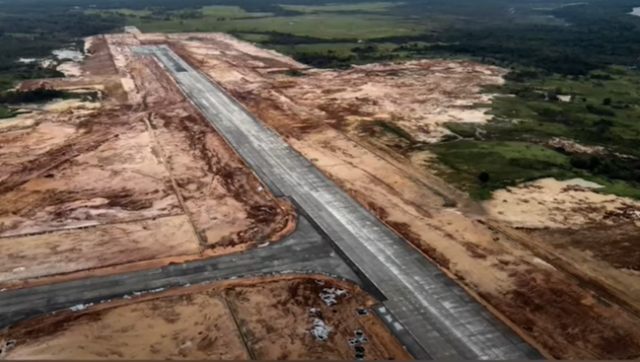 September 21, 2020 6:37 AM