Kem Sokha's Lawyers Call for Expedited Hearing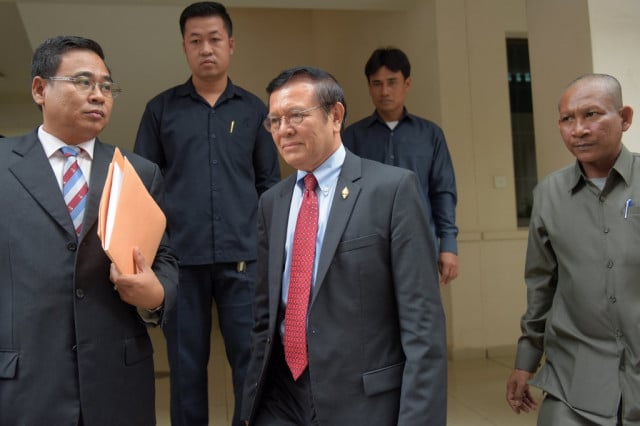 Phoung Vantha
September 9, 2020 11:12 AM
Following a report from government-friendly media suggesting Sokha's trial could be delayed by four years, his legal team have called for expedited proceedings.
PHNOM PENH--Kem Sokha's lawyers on Sept. 9 urged the Ministry of Justice and the court to expedite the hearing proceedings of the former opposition leader to bring an end to his case as quickly as possible.
Pheng Heng, one of Sokha's lawyers, said that the Ministry of Justice has put down a policy to speed up the case of congestion.
"Kem Sokha's trial is a congested case—it has been more than three years [since Sokha's arrest] now," he said. "I hope that the Ministry of Justice and the court will deal with Kem Sokha as soon as possible, as well as other cases."
Prime Minister Hun Sen said Kem Sokha's case may be delayed for the next four years until after the commune elections of 2022 and national elections of 2023 are held, according to government-friendly outlet Khmer Times, who on Sept. 7 quoted Hun Sen's words from a closed-door Council of Ministers meeting at the Peace Palace on Sept. 4, 2020.
However, it is unclear whether Hun Sen's prediction will be accurate, as Phay Siphan—a government spokesperson—noted that Sokha's case is complicated.
"It takes a long time to find evidence," he said.
"Are we willing to judge quickly but lose the interest of His Excellency Kem Sokha or do we want a fair judgment?" Siphan asked.
He said that it's up to Sokha's lawyer to find more evidence to acquit the former opposition leader, because the plaintiffs have arguments to charge.
Numerous ambassadors—typically from democratic nations—have urged Hun Sen's government to ensure that Sokha's trial is fair and untainted, with Cambodia's judiciary often criticized for a lack of independence.
Currently, Sokha's trial, which has attracted international attention, has been suspended in the wake of the Coronavirus Disease 2019 (COVID-19) pandemic.
Sokha was charged with "treason and espionage" and arrested late at night at his home on Sept. 2, 2017 after the Cambodia National Rescue Party—widely regarded as the only viable opposition party—was dissolved by Cambodia's Supreme Court some two months prior to Sokha's arrest.
Sokha was released on bail on Sept. 10, 2018, and has been under house arrest ever since, although more recently has been granted permission to travel within the country.
Related Articles