Kampong Thom: 11 Military Police Arrested for Suspicious Death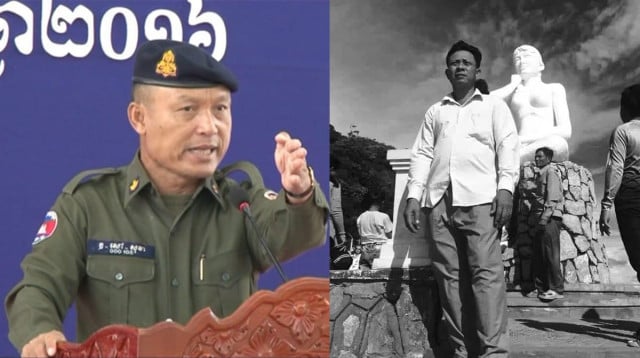 PHNOM PENH – Eleven military police who were involved in a crackdown on online cockfighting, which caused the death of a person on Aug. 6, were put under detention in Kampong Thom province.
Sao Sokha, deputy commander of the Royal Cambodian Armed Forces and commander of the National Gendarmerie on Aug. 9 issued an order to detain the 11 Kampong Thom gendarmerie officers involved in the case. He also instructed the commander of the Kampong Thom Provincial gendarmerie to cooperate and help shed light on this case.
"I ordered to detain all those involved and wait for the investigation. If it finds that the deceased person died as a result of [misconduct] by the military police, whoever committed it must be brought to court. The law will be enforced against that individual," he said. "I cannot tolerate any military police to use violence against the people to the point of causing death."
Sokha added that it was necessary to issue an order to take action on this matter rapidly, without higher instructions coming from Prime Minister Hun Sen, Minister of National Defense Tea Banh or Commander-in-Chief of the Royal Cambodian Armed Forces, Vong Pisen, to arrest the suspects as soon as possible.
The incident occurred on Aug. 6 in Rong village, Krava commune, Baray district, Kampong Thom province, when a man lost his life during a military police crackdown on illegal online cockfighting in a coffee shop.
That day, the National Gendarmerie received a report from Hang Thol, commander of the Kampong Thom Provincial gendarmerie, to arrest four suspects who were involved in online cockfighting games, Spokesman for the National gendarmerie Eng Hy said.
While sending the suspects to the Kampong Thom Provincial gendarmerie Command office, a man, named Suong Don, said he started to not feel well, Hy reportedly said.
Don was apparently suffering from anemia and started to breathe faster and faster until his heart stopped. The military police reportedly performed a cardiac massage and transferred him to the hospital, where he was declared dead, Eng Hy added.
A woman who claimed to be the daughter of the victim posted on Aug. 7 on a Facebook profile, named Nearadey Din, that her 47-year-old father, Suong Don, was coming back from a meeting and stopped by in a coffee shop as it was raining outside.
She added that not long after he arrived, the military police went down and grabbed her father by the neck until he could no longer breathe. Her father then died in the ambulance, she claimed.
"It's unfair for my family that they implement the law without any responsibility. Please help me find justice," she wrote. "[My father] was an innocent man who loved and respected the villagers."
Related Articles
October 18, 2019 11:53 PM