Final Justice for Khmer Rouge Crimes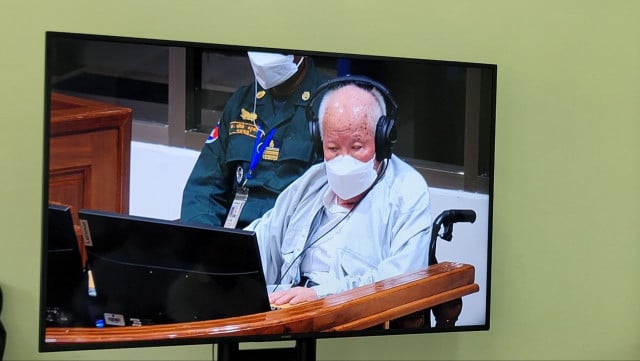 September 22, 2022 11:55 AM
PHNOM PENH – Khieu Samphan, the former head of state under the Khmer Rouge, has had his final appeal against his conviction for crimes against humanity, torture and mass extermination rejected.
Survivors and the families of victims, many of whom were ethnic Cham and Vietnamese Cambodians, watched on screens outside the court as the final verdict in the Extraordinary Chambers in the Courts of Cambodia (ECCC) was read out.
Khieu Samphan looked intently at the screen before him as the court dismissed multiple appeals, though in a few cases the nature of the conviction was modified.
Among the convictions upheld were crimes against humanity for conduct characterised as forced marriage and rape, forced disappearances, religious persecution and forced deportations.
The Sept. 22 hearing was the final legal chapter for the last living member of the Khmer Rouge to be tried for their part in the genocide of an estimated 1.7 million people in Cambodia.
The court has said there will be no more appeal open to Khieu Samphan, now aged 91.
Just nine people were brought to justice for the black-shirted revolutionary group's reign of terror from 1975 to 1979. The others are dead.
Pol Pot, who led the movement with a blend of Marxism-Leninism and agrarian ideology, died in the jungle in 1998 and never faced justice.
The Khmer Rouge tribunal said earlier that this would be Khieu Samphan's final appeal and the court, set up in 2006, would wind up proceedings by the end of the year.
The epic legal saga followed the establishment of the tribunal, known as the Extraordinary Chambers in the Courts of Cambodia, as part of a peace plan in 1992 which ended ten years of civil war.
The court has spent 16 years and $337 million on its proceedings, funded mostly by foreign countries, but just nine people were brought to justice.
Foreign and Cambodian judges heard harrowing testimony from hundreds of victims of the Khmer Rouge which marched into the capital on April 23, 1975, and ordered the entire population to evacuate the city.
Doctors, teachers, experts and intellectuals of all kind were massacred as the revolutionary group sought to create a communist agrarian society. The horror for those who could not escape abroad was just starting.
The tribunal heard of mass starvation, summary executions, forced marriages, rape and torture as the Khmer Rouge forced its will on the population.
Ethnic Vietnamese communities were exterminated as were ethnic Cham people, who were singled out for particularly cruel treatment because of their Islamic faith.
One of them, Tam Teyvoeu, 70, of Krouch Chhmar district in Tboung Khmum province, spoke recently about her family's ordeal.
She was 24 and had two children when the Khmer Rouge were in power.
Cham people were forced to eat pork and ordered not to take part in their religion. Those who refused were killed. Most young Cham people agree to eat it because they were hungry but it was hard for older people.
"I could not get myself to eat, but seeing they were behind us and were observing us every move with an intention to kill us if we did not follow their orders, I forcefully ate about three spoons. Then I vomited it all," she said.
Mostly, she ate a banana, a potato and edible leaves.
Every evening, Khmer Rouge soldiers would call on Cham people to kill pigs for food.
"I didn't get tortured or anything, but all my family members were killed one after another, starting from my brother-in-law to my younger sister and her husband and to my other relatives," she said.
They forced people to work hard, to farm and cut down trees on a mountain.
"I was glad I could escape and survived the regime. I'm glad it's over. What they did was beyond cruel and they deserve the death sentence, but because our country's constitution does not allow it, it's impossible.
"However, I am still glad that they are now being sentenced to jail for the rest of their lives for what they did."
Youk Chhang, executive director of the Documentation Center of Cambodia, said Cambodia would move on with a foundation of truth and justice provided by the ECCC.
Asked about lessons for the international community at this time of conflict in other countries, he said, "We – Cambodia and the international community – must integrate education as the next step forward toward atrocity crimes prevention within our own national and international development policy.
"With this, we can be optimistic about a better future without genocide for all."
Related Articles