Cellcard's Innovative Launches Enable Customer Digital Lifestyle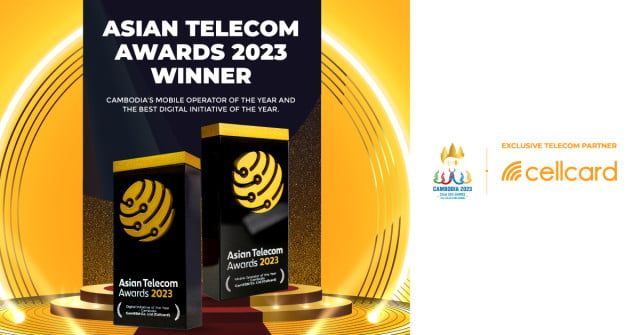 Phnom Penh – The company's innovations significantly contributed to the company's most profitable year in years.
2022 has been a monumental year for CamGSM, known commercially as Cellcard, as it celebrated its 25th anniversary. The milestone led Cellcard to pay tribute to its long history of firsts by marking this year with multiple innovation launches – all of which have significantly contributed to Cellcard's 2022 financial achievement.
The company's vision is to be an enabler for its customers' digital lifestyles, and this year's innovations included the launch of Time To Rise, the first artist collaborative data plan which introduced the global music streaming platform Spotify to Cambodia. Time To Rise was developed in collaboration with Brand Ambassador VannDa and was inspired by the aspirations of his historic hit song of the same title.
The data product combines VannDa's influence, Cellcard's extensive network, and Spotify's reach to deliver connectivity and access to both local and global content. The company mentioned that the introduction of Spotify will make it easier for everyone to use the platform in the country, enriching their digital lifestyles, inspiring a new generation of talents, and leading to new opportunities and developments in Cambodia's music industry.
"With Time To Rise, Cellcard redefines its brand ambassadorship engagement to provide new criteria by which consumers evaluate products," the company said.
Cellcard also introduced Updated Playgame Unlimited, a gamer-specific plan that offers free unlimited internet for the most popular esports titles in Cambodia, and; Playgame Cloud, the country's first cloud gaming service.
In a competitive market that offers a plethora of telco bundles defined by their dollar-value exchange, operators have to either play the numbers game or think out of the box to create a paradigm shift. Cellcard went ahead of the field to launch innovative telecom products that significantly contributed to its success.
As such, the company has been recognised by the Asian Telecom Awards as the winner of the Mobile Operator of the Year - Cambodia and the Digital Initiative of the Year - Cambodia awards.
The prestigious awards programme recognises the remarkable achievements and initiatives of Asia's leading telecom companies, as well as those who stood out and were able to navigate their way through various market challenges whilst providing relevant and award-winning products and services to their clients.
About Cellcard
Launched in 1997, Cellcard is Cambodia's longest-serving and only 100% Cambodian-owned operator, reputed for its long history of first-to-market innovations, outstanding customer service and the fastest, most reliable mobile network. Considered as one of the biggest telco companies in Cambodia, Cellcard services over four million customers with nationwide coverage and an expansive dealer and distribution network.
With a vision towards providing connectivity for all and enhancing the way customers live, work and play, Cellcard's portfolio continues to expand to accommodate and build the esports and gaming community, provide digital entertainment services to address the need for real-time and on-demand content, and offer innovative and insightful enterprise solutions to support businesses.
Cellcard stands as the most awarded operator in Cambodia with more than forty global and regional accolades.
About Royal Group
Cambodia's strategic investment holding company, the Royal Group is recognized as the country's most dynamic and diversified business conglomerate. With interests in a wide range of industries including telecommunication, transport, energy, media & entertainment, banking & financing, insurance, hotels & resorts, education, property development, trading, and agriculture.
Related Articles
September 17, 2021 5:05 PM