Cambodia's Art Galleries and Artists during COVID-19:  Harsh Lessons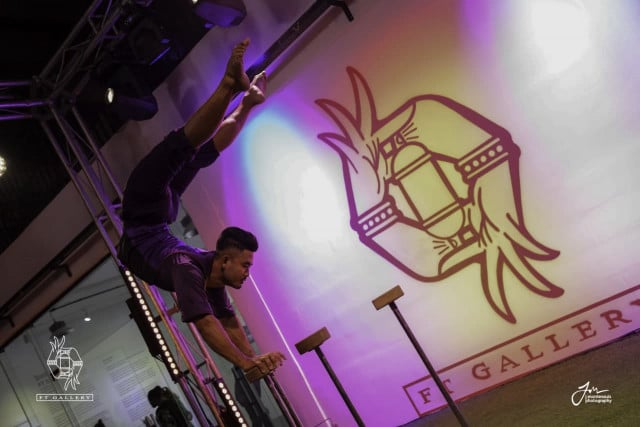 Michelle Vachon and Phoung Vantha
March 24, 2021 1:14 AM
The pandemic has hit Cambodia's artists hard and, for galleries and small venues, this has shown how crucial it is to develop a Cambodian following for the country's contemporary artists rather than rely on foreign buyers.
PHNOM PENH--It was a year ago, in March 2020, that the Cambodian government issued travel restrictions on visitors from some western countries including France and the United States, and also implemented tough restrictions on entry to the country for foreigners.
While aiming to prevent the spread of COVID-19, the measures limited the number of visitors Cambodia received such as those who came during the cold months of winter in their own countries and people who made frequent trips to Cambodia, that is, people who tended to tour the country from Battambang to Kep, Mondulkiri to Siem Reap provinces.
And these were the visitors who acquired artworks from today's Cambodian artists. This, plus the fact that many expats with the resources to buy Cambodian contemporary artworks have left the country over the last few years, has greatly reduced art galleries and artists' opportunities to sell artworks.
Because, with the exception of a small group of individuals and collectors, Cambodians don't typically buy contemporary works from Cambodian artists.
Moreover, one has to go to Singapore, Australia, France or the United States to see Cambodian contemporary works in permanent exhibitions since there is no contemporary art museum in the country—a few years back, the National Museum in Phnom Penh held an exhibition of the country's foremost contemporary artists but this was a short-term event.
The situation created by the pandemic over the last year has forced art project and gallery managers to take major steps in order to reach potential buyers and support artists.
Pi-Pet-Pi Gallery282: Betting on Phnom Penh
In recent years, the art gallery of the Cambodian artist group Romcheik 5 in Battambang City has been on the itinerary of foreign visitors to the area. The five artists in the group have had their work exhibited internationally and figure among today's 20-and-30 something painters and sculptors with a known style and voice.
When those visitors stopped coming due to COVID-19, this put an end to any possible art sales, said Alain Troulet, coordinator of the group.
Liz Heeley who ran the Kampot Art Gallery in Kampot City was in a similar situation. "Just when we were about to start really breaking even or making a profit, COVID hit," she said. The regular flow of visitors, expats and Cambodians who descended on Kampot City on weekends and during holidays was now a thing of the past.
So Heely and Romcheik 5 joined forces and, in December 2020, opened in Phnom Penh the Pi-Pet-Pi Gallery282 since they felt that the only market for artists at the moment is the capital.
The first two exhibitions featuring works from Battambang Province and Kampot Province artists went well, attracting a regular flow of visitors, Heeley said. But then, the third one featuring the "Embroidered Landscape" series of artist Mil Chankrim opened on Feb. 19, 2021—the day before the latest COVID-19 community outbreak was triggered.
This outbreak brought down the number of visitors to the gallery to maybe one per day, Heeley said, adding that they felt there was no point in continuing the exhibition and took the paintings down on March 13.
After putting all their hopes and resources into this gallery in Phnom Penh, things are now on hold, Heeley said. She now plans to display small art objects and works in the gallery for the time being and, if the situation with the pandemic improves, to hold an exhibition toward the end of April 2021.
Sra'Art Gallery: Reinventing Oneself Online
In fact, the whole of 2020 was a series of off-and-on events for art galleries, said Cecile Eap of Sra'Art Gallery in Phnom Penh.
Eap had opened her gallery in October 2019 during the Phnom Penh Photo Festival.
On 8 March, 2020, she said, "we were opening the exhibition 'Women of the World.' Super-excited about the exhibition. And then a week later, shutdown: The entire country needed to lock the door and close.
"That was very scary at first," Eap said, "being a small business. We had opened less than six months earlier and we had to close our doors we did not know for how long."
The last 12 months have been stop-and-start, she said, due to fluctuations in COVID-19 cases and restrictions enforced in response to community outbreaks.
So, Eap said, "[w]e tried to boost our presence on social media." Since her receptionist was actually a student in social media and mass communication, Eap had her explore some alternatives.
"We really tried our best…to engage and reach people," she said. "That was the essential part: Not only people looking at our content but also interacting with it for keeping them engaged.
"We basically had to reinvent ourselves, figuring out different ways to reach people from the way that we did before," Eap said.
Sa Sa Arts: a Systematic Shift to Link Digital and Physical Events Seamlessly
For Sa Sa Arts Projects, which is run by Cambodian artists in Phnom Penh, 2020 also proved to be a difficult year. Fortunately, the project that started in 2010 at the White Building in Phnom Penh and moved in 2017 to its current location on Street 350 had the good fortune of having funds for 2020 through March 2021, said Vuth Lyno, Sa Sa Arts' artistic director.
"Last year was the year we had to work hard in terms of finding new funding sources and channels in order for us to be more self-financing…from this year on," he said.
At Sa Sa Arts, Lyno explained, "[w]e try to address what we see is basically missing in the art scene and try to complement what is being done [by other art organizations].
"There is a growing need for younger artists to showcase their work, to [develop] their critical knowledge to expand…in the arts," he said.
This, Lyno added, is why Sa Sa Arts focuses on education programs, workshop and residency projects as well as exhibitions. And during the pandemic, he said, "we did not stop because we thought, you know, artists rely on us…we have a responsibility."
Before COVID-19, the organization already was hosting live events and lectures on the internet as well as using social media. But as the country switched to pandemic mode, Sa Sa Arts started using the internet more systematically.
"So we decided to do two parallel approaches," Lyno said. "One, an online auction... where people can reach and buy artworks from anywhere in the world through an online portal platform. And we also had the works themselves in the physical form in an exhibition…in Phnom Penh."
Their auction was held in November 2020, he said. "[W]e were very encouraged because we received a lot of support and contributions from Cambodian artists as well as artists from Southeast Asia with whom we have built relationships over the years.
"And in the end, we managed to reach our goal from that auction," Lyno said. "The principle…was that 50 percent of the sales would go back to the artists and 50 percent would go to support Sa Sa because we know that everyone is having a difficult time financially, and especially the artists. And in the end, it worked well: It was a good solution for everyone."
Silapak Trotchaek Pneik (STP): Inviting Cambodians to Support the Cambodian Visual Art Scene
In many cases, the pandemic put on hold, or at least delayed, projects that had been in the works for some time.
One of them is the art gallery Silapak Trotchaek Pneik (STP) that Yean Reaksmey has opened in Phnom Penh.
Originally from Battambang City, Reaksmey worked with Dana Langlois on numerous arts exhibitions and projects at Java Café. He obtained a master's degree in art history at the Lasalle College of the Arts in Singapore in 2019 and is co-investigator on a research project for the University of Leeds in the United Kingdom on culture linked to identity among young Cambodians.
In late 2019, Reaksmey came up with the idea of opening an art gallery to feature Cambodian artists past and present. The goal was that, within five years, the gallery would be, he said, "a gateway of Southeast Asia, meaning that we will try to feature Southeast Asian artists…when we have the capacity to do that."
Reaksmey meant the gallery to be funded by Cambodians, given the prevalence of foreign funding that has supported Cambodian arts since the early 1990s.
"I wanted to change the narrative and say that there also are Cambodians who care about culture and the arts," he said. "But because of the pandemic, it's been really hard to do it. That's the reason why I turned to online fundraising."
His campaign on Facebook suggested contributions of $2, $5 or $10: Many Cambodians—including some prominent ones—responded and made donations, he said.
The project, which involved construction work, was delayed for months due to the coronavirus and limited resources. The gallery finally opened its doors on Feb. 17, 2021. A few days later, the Cambodian health authorities were announcing the latest COVID-19 community spread, which has greatly reduced the number of visitors to the gallery, Reaksmey said.
Located in a building where Cambodian artist You Khin lived—he passed away in 2009—the gallery features Cambodian masters such as Niek Dim, Svay Ken, Van Nath and You Kin in addition to today's artists.
FT Gallery and Studio—Staying on Course No Matter What
One other project whose beginnings have reflected the ups and downs that COVID-19 has triggered for art organizations and artists is the FT Gallery and Studio set up by urban artist FONKi.
The project, which involved creating gallery and studio space with room for workshops as well as performances, got off schedule for several months in early 2020 as FONKi could not return from a neighboring country due to travel restrictions during the pandemic.
Done in partnership with Factory Phnom Penh and Urban Village, the soft opening of the space had to take place while he was away and, following more delays, it is only in January 2021 that FT Gallery and Studio was officially launched. "It really slowed us down but we were able to focus on our beginnings with our new team, on organizing," FONKi said.
And, in spite of delays, he said, "we never stopped."
The gallery has been holding monthly exhibitions and workshops. Artists from Open Studio in Siem Reap City who have been directly affected by the decline in tourism were the first to take part in the artist-in-residence program, FONKi said.
Moreover, FT Gallery held on Feb. 20, 2021, an event entitled "From Disability to Visibility" featuring 18 artists and a dance performance. It was held in cooperation with 10 organizations including Epic Arts, an NGO based in Kampot Province that provides education as well as arts training to people with physical disabilities. "That's our mission: to support other artists, creators through this platform," FONKi said.
Several events had to be postponed due to COVID-19 measures decreed by the Cambodian government. For example, the last circus performance given by the graduating students of the NGO Phare Ponleu Selpak in Battambang City was cancelled in February 2021 due to the Feb. 20 community spread.
Java Café: Cambodian Artists Struggling through the Ups and Downs of the Pandemic
Circumstances over the last 12 months have made any cultural event difficult to schedule since one never knew whether the Cambodian government would strengthen or relax measures in the country based on the latest situation with the pandemic.
For example, the opening of the art exhibition of Cambodian artist Em Riem—one of the country's artists whose work features in public and private collections abroad—was postponed twice at the art gallery of the Sofitel Phnom Penh Phokeethra hotel in Phnom Penh due to COVID-19 measures.
At Java Café Toul Kork, the exhibition "Migration" by artist Chhan Dina has been extended through June, the Feb. 20 community outbreak of the coronavirus having interfered with the usual opening and exhibition period.
And a performance planned for Nov. 29 at the Black Box Theater of Java Café Toul Tom Poung had to be cancelled, said Sophiline Cheam Shapiro, choreographer of Khmer classical dance, who was staging the performance.
Earlier that month, she had presented a performance to mark the 17th anniversary of Khmer classical dance being declared a Masterpiece of the Oral and Intangible Heritage of Humanity by UNESCO. And it was a full house, she said, adding that it would also have been full house on Nov. 29.
"Cambodia is a country where the artists rely on commercial income more or less," said Dana Langlois of Java Café who has held arts exhibitions and programs at her Cafés for more than 20 years. "It means they rely on artwork sales, ticket sales or otherwise funding…We have a small art scene and we have limited resources locally for funding arts programming. So much of the arts are depending…on what you can sell. And so that's why it's extra hard for artists here.
"Basically the issue with COVID-19 just made it worst: It just didn't allow people to recover," Langlois said. "And, basically, it's still in the same situation because money is scarce and you're never quite sure if you're going to have to close the program, close the space. So it's pretty hard to plan, it's hard to get funding because you can't plan. So it is quite a challenge for many people in the arts."
Meta House: So Far So Good, Kind of…
In the case of Meta House—an arts house that holds exhibitions and film screenings, concerts and conferences in Phnom Penh—COVID-19 arrived as the center in Phnom Penh had just relocated from Sothearos Boulevard to Street 178, across the street from the Royal University of Fine Arts and a few steps from the National Museum of Cambodia.
"In COVID-free time, definitely a great location," said Nico Mesterharm, Meta House director. "The location near the National Museum in this kind of art district, you know."
Linked to the Goethe-Institut, which is a non-profit German cultural association, Meta House receives some German government assistance. "However, the funding is limited," Mesterharm said. "I mean it helps but it actually didn't really change the fact that we are barely holding up."
In addition to having to cancel exhibition openings and performances whenever the Cambodian government issues warnings due to an upsurge in COVID-19 cases, Meta House can no longer feature the mix of visiting and local artists who usually feature on its program as foreign artists are not travelling at this point, he said.
But, Mesterharm added, "[W]e're still in place and we continue, I mean, that's just the point: The point is we have to wait and we understand the situation…We're not giving up."
Art Reimagined Digitally and Physically
For visual artists, while it is important to maintain an international profile, one lesson learned during the pandemic is the need to also develop a market within the country, said Reaksmey of the STP art gallery.
As the pandemic has shown, he said, "we cannot rely so much on foreign markets…a lot of artists have suffered…not institutions but individuals.
"We will try our best to penetrate that market, to build that market, the idea of collectorship among Cambodians…It's a big dream but let's dream a bit," he said.
And the ultimate lesson from the pandemic may be that one must be open to change, said Vuth Lyno of Sa Sa Arts Projects.
"What we learned," he said, "is to integrate all that into the way we work in the future because…we need to keep changing and make the best of it with what we learned from that time and how we can continue to maximize our work in this case: How we can reimagine our work not only digitally, but also physically and digitally together."
Related Articles