Agriculture Bank Rush to Help Rice Industry
November 22, 2022 8:00 PM
PHNOM PENH – The Agricultural and Rural Development Bank of Cambodia (ARDB) has approved a $93 million loan for rice millers and rice processing companies to help them buy rice from farmers at affordable prices.
ARDB lending scheme comes after many farmers experienced a fall in the rice selling price after the harvest season started about a week ago. The State-owned bank's role is to support the implementation of government policies in the agricultural sector.
Rice prices have recently plummeted as farmers rush to harvest and sell their crops all at the same time. Millers also don't have the financial and physical capacities to receive such a large quantity of rice, which further decreases its value.
Such a market mechanism has already been observed in the past and is not to farmers or authorities.
To promote timely procurement of rice from farmers, the Ministry of Economy and Finance on Nov. 20 released $10 million to support the ARDB's loan scheme, which originally amounted to $83 million.
In addition, ARDB also called on farmers who still have to harvest to set up a contract with their local mill before collecting their rice, to avoid lowering the price any further.
Dith Tina, Minister of Agriculture, Forestry and Fisheries, assigned officials to cooperate with mill owners and relevant departments to address the problem of rice prices in Battambang and Banteay Meanchey provinces, where most of Cambodia's rice production takes place.
In these provinces, the ministry has set a floor price on wet Romduol rice – which grows during the rainy season and is being harvested now – to guarantee farmers a reasonable revenue. Mill owners have to buy rice "not below 1040 riels" per kilogram (about $0.26), while the price had dropped to 900 riels per kilogram (around $0.22) last week.
"Thank you to those who helped our farmers in difficult times. Rice prices will return to normal," Tina said.
Dith Tina also thanked the Ministry of Economy and Finance for allowing the Rural Development Bank to provide additional funds to rice millers to buy rice from farmers during the core of the harvest season.
"I would like to thank the Agricultural Rural Development Bank for its responsible attitude and timely response during the fall in rice prices, and the Ministry of Agriculture urgently needs help," he added.
Originally written for ThmeyThmey, this article was translated by Sam Sopich for Cambodianess.
Related Articles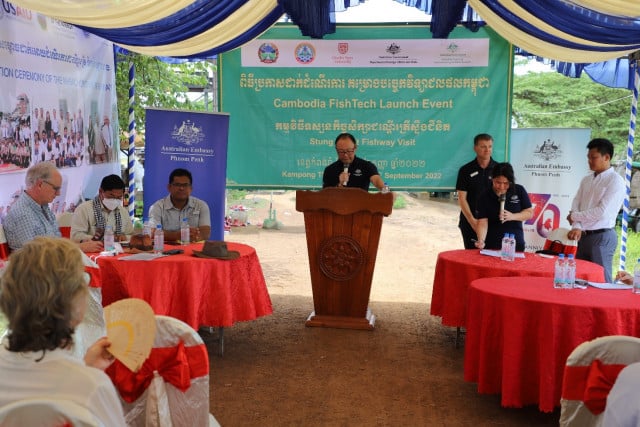 September 3, 2022 12:09 PM