A Clean City Starts with Changing Plastic Users' Habits, Says Student Group Nisset Plastic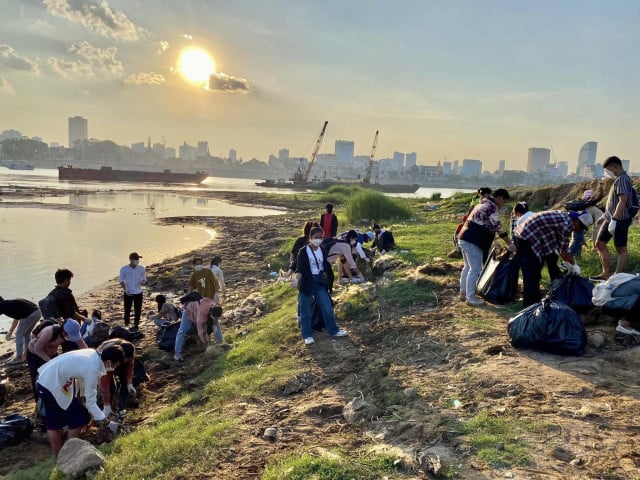 PHNOM PENH — Cleaning the city of plastic waste is no simple task as some people continue to litter the capital with plastic trash rather than properly dispose of it.
This has led Hem Sophem, a student who attends the Institute of Foreign Languages at the Royal University of Phnom Penh, to start collecting plastic waste on his own on university grounds in June 2022.
Within a month, a few friends had joined him. Then other students came along and, before long, they had formed a team determined to help clean the city of plastic waste, and also to spread the message that people should not throw plastic waste on streets or at public sites in the capital. Which, as they now know, is no easy task.

But they have not given up and, today, their group officially named Nisset Plastic (or university student plastic) continues to work, the team believing that to make change, it takes action, not just words.
Hem Sophem explained on Feb. 4 what had prompted him to take steps to address plastic pollution in the country.
Meng Seavmey: First, how would you describe the current situation regarding plastic waste? And, would you tell us more about your objectives and what this involves?
Hem Sophem: There's a lot of plastic waste everywhere. Even the places the team has cleaned get full of plastics again after a while. But the situation at some places is indeed better. There's no specific schedule for our activities. However, the team tries as much as possible to conduct a mission once a week—four days a month—on weekends, so it is either Saturday or Sunday. We usually do it in the evening because we have classes. So, we have to pick a day on which we are available.
Our mission is only to collect plastic waste. We do not get involved in spreading awareness or educating people through campaigns to promote plastic-use reduction. One of the reasons is that there are a lot of [initiatives conducted] already, especially on social media, but it's still ineffective.
So, the Nisset Plastic team goes ahead with a mission and shoots videos of our activities to post on Facebook to spread the mission among people. We want to be role models for young people. I believe that people know plastic waste is a problem, and they indeed have received some sort of education on that. Therefore, we do not want to talk much, but we rather show by our actions.


A member of the Nisset Plastic team holds a sign in Khmer saying "More Nisset Plastic, less plastic waste" next to a garbage collection site where the team has brought bags of plastic waste they have collected. Photo: provided
Meng Seavmey: How do you choose the places for your missions?
Hem Sophem: I am the one who picks the location, and it's not done randomly. When I target a place, I want to change the habits of people within that area: from throwing trash carelessly on the ground to putting trash in the bins. For example, many young people like hanging out and eating in public places, but they often leave trash behind or throw it away when they are done eating. There is plastic waste being thrown out in the river and areas around it.
Meng Seavmey: How many places has the group cleaned so far?
Hem Sophem: For the first three months, I cleaned around my school, the Royal University of Phnom Penh…Many students were being irresponsible with their used plastics or trash. I felt irritated and ashamed of such behavior. That was why I started "Nisset Plastic." The next place was Sangkat Boeng Kak where we spent a few months cleaning. After that, we started doing so along public streets, such as the area around the Kromuon market, behind the Sokha Hotel, and in front of the Royal Palace.
There are a few places [in Phnom Penh] where we have cleaned more than twice, such as behind the Sokha Hotel and Boeng Kak, and the team spent around 10 weeks cleaning those areas. In some places, the amount of trash doubled a week after we had cleaned. The same thing happens at the university. I even wrote signs with cutting words for the throwers, and some had the nerve to throw trash next to the signs. I was speechless. There have been many educational campaigns and they have gone through information sessions many times. However, they still behave the same way.
Meng Seavmey: In the areas that you have cleaned, were there any trash bins?
Hem Sophem: At the university, there are trash bins kept in order under the trees and along the pond. The trash bins are near the places where people sit. In the Sokha Hotel area, there are many trash bins along the street. However, by what I have seen, people decide to throw trash like beer cans and snacks in the street when the trash bins are in front of them and are even in a good order.
Therefore, the conclusion is that it is not about the number of or the state of the trash bins: It's a matter of people's habits and mindset.
Meng Seavmey: What are the challenges that the group has encountered thus far?
Hem Sophem: Our mission is supported by many people, but not by everyone. Some people even threw used plastic bottles toward us when they saw what we were doing. Even people around me thought it was useless to do that when I first started picking up trash and plastic waste. They even made fun of me, saying things like "[g]o clean your bedroom first." But, I never listened to them.
The problem that we are facing right now is that there's a lack of budget for the materials we use, because it's just me who spends on this. However, many people who have seen us on social media have contributed…So, I think we can cope with the budget problem. There are many people in the team, but it's only me managing everything because we are still students. I have never asked them for money or anything because their participation is already valuable to me. I am happy to see that the students from different universities volunteer and join us to do this. I don't want anything more than that.
Another obstacle is the lack of dumpsites. After we pick up the trash, we usually place the trash bags at the dumpsites somewhere near the place we have cleaned, waiting for the waste collection trucks. However, there are no dumpsites in some areas. Therefore, we have to first contact the local authorities to ask where we can place the bags. In that respect, the authorities have cooperated with us and encouraged us to do what we do. The Environment Department also praised us for it.
Meng Seavmey: It is difficult work what you are doing right now. What would you ask the public to do to help reduce the trash and plastic waste at the public sites?
Hem Sophem: I don't have any request. But I do want them to realize that, as Cambodians, they should keep in mind [the damage caused to the environment] when throwing their used plastics or trash away carelessly like that. [Moreover,] it does not look good to foreigners or the neighboring countries… [S]ome people will still behave that way even though many people are aware of how bad it is. We can clean, but we can't make them listen to us.
[People], you can join Nisset Plastics if you would like to help us clean our environment in the city as well as change the bad habit of throwing trash irresponsibly.
Meng Seavmey: What are your plans for the future with the group?
Hem Sophem: I think we'll focus on the 4Rs policy: Reduce, Reuse, Recycle and Refuse. However, we first want to do whatever it takes both directly and on social media to change people's bad habit of throwing trash outside the bins. I also want to express my appreciation to the team, the people who have been participating in the missions so far. Their impact is widespread on social media, and we will hopefully work on the 4Rs in the future.


Group shot: Students of the Nisset Plastic group pose a group shot during one of their garbage-collections missions. Photo: provided
Related Articles
September 18, 2020 11:10 AM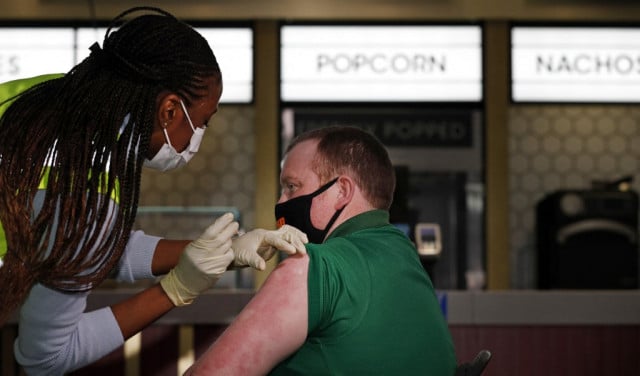 February 11, 2021 4:03 AM